Lyndal Cole Jankowski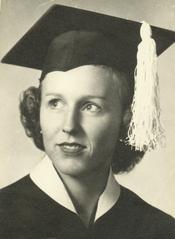 October 27, 1937 ~ April 13, 2012
Lyndal Cole Jankowski, 74, of Houston, formerly Ten Mile community, passed away, Friday, April 13, at the Kindred Hospital in Houston. Funeral services will be held Sunday, April 15, at 3:00 pm at the Union Baptist Church. Services have been entrusted to Cozart Funeral Home.
Lyndal was born to her parents Dan B. and Lula (Hudson) Cole, on October 27, 1937 in the Ten Mile Community. She was very active in high school, playing sports, basketball was her favorite. Shortly after she graduated high school she took Raymond Jankowski's hand in marriage on December 28, 1957. Lyndal was a fisher and had flowers she tended to. She loved to spend time with her grandson Michael Berry.
Lyndal was preceded in death by both of her parents; a sister Mildred Cole; and a brother A. F. Cole.
She is survived by her husband of 54 years, Raymond Jankowski; a son Brian Jankowski, a daughter Kimberly Jankowski; a brother Billy Ray Cole; and a grandson Michael Berry.
Memories Timeline
Guestbook
---